pdfFiller is not affiliated with any government organization
HR117-1 2005-2023 free printable template
Show details
Hide details
Zip: Phone: How long did you reside at prior address? Are you over 18 years of age? ... 1. 2. 3. Page 1 of 2. O 2005 Socrates Media. LLC. HR117-1 Rev. 04/05 ... I certify that the facts contained
Get, Create, Make and Sign employee information form template
Get Form

eSign

Fax

Email

Add Annotation

Share
How to fill out new hire employee information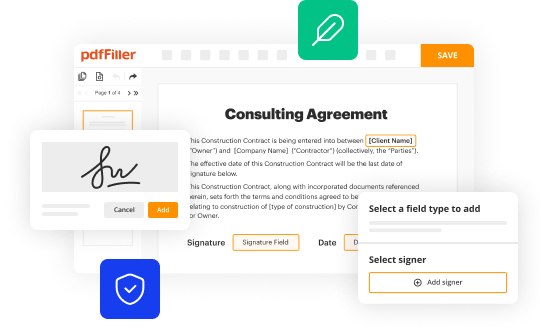 How to fill out new employee forms?
01
Gather all necessary documents, such as identification and social security number.
02
Fill in personal information, such as name, address, and contact details.
03
Provide employment history, including previous job titles, dates of employment, and responsibilities.
04
Complete tax and withholding information, including federal and state tax forms.
05
Select benefits options, such as health insurance and retirement plans.
06
Sign and date all forms to certify the accuracy of the information provided.
Who needs new employee forms?
01
Employers or hiring managers require new employee forms to collect essential information about the individual joining the company.
02
Human resources departments use these forms to establish an employee's presence in the organization and ensure compliance with legal requirements.
03
Payroll departments need the filled-out forms to accurately process the employee's payments, benefits, and taxes.
This is how it works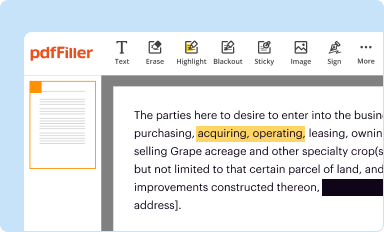 Edit your new hire employee information form online
Type text, complete fillable fields, insert images, highlight or blackout data for discretion, add comments, and more.
Add your legally-binding signature
Draw or type your signature, upload a signature image, or capture it with your digital camera.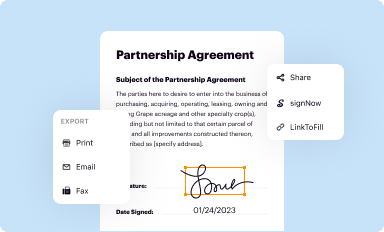 Share your form instantly
Email, fax, or share your new hire employee information form via URL. You can also download, print, or export forms to your preferred cloud storage service.
How to edit new hire employee information form pdf online
To use the services of a skilled PDF editor, follow these steps below:
1
Register the account. Begin by clicking Start Free Trial and create a profile if you are a new user.
2
Prepare a file. Use the Add New button to start a new project. Then, using your device, upload your file to the system by importing it from internal mail, the cloud, or adding its URL.
3
Edit new employee forms. Replace text, adding objects, rearranging pages, and more. Then select the Documents tab to combine, divide, lock or unlock the file.
4
Get your file. When you find your file in the docs list, click on its name and choose how you want to save it. To get the PDF, you can save it, send an email with it, or move it to the cloud.
With pdfFiller, it's always easy to work with documents.
People Also Ask about new hire employee information form pdf
What forms do I need from a new employee?
What forms do new employees need to fill out in MN?
What two forms must a new employee complete before receiving a paycheck?
What paperwork is required for onboarding?
What two forms must an employee complete?
New Employee Forms Pdf is not the form you're looking for?
Search for another form here.
Comments and Help with employee information form pdf
Video instructions and help with filling out and completing new hire employee information form pdf
FAQ
What is new employee forms?

New employee forms are documents that are used to capture information about a new hire, such as their contact information, emergency contact information, and employment details. They are typically completed during an employee's onboarding process and are used to set up payroll, benefits, and other administrative tasks.

Who is required to file new employee forms?

The employer is required to file new employee forms. This is usually done through the Human Resources department or by the hiring manager. The forms typically include information about the employee such as their name, address, social security number, and other pertinent information. Typically, employers will need to complete and submit a variety of forms, such as W-4 and I-9 forms, to the appropriate government or state agencies.

What is the penalty for the late filing of new employee forms?

The penalty for late filing of new employee forms depends on the state and local laws, as well as the company's policies. In some cases, employers may be subject to fines or other legal action for not filing the forms in a timely manner.

How to fill out new employee forms?

Filling out new employee forms typically involves providing personal information, signing various agreements, and completing paperwork related to taxes and benefits. Here are some general steps to help you fill out such forms: 1. Review the forms: Read through each form carefully to understand the information required and ensure you have all the necessary documents ready. 2. Provide personal information: Fill in your full legal name, address, contact details, Social Security number (or equivalent), and date of birth. Some forms may also ask for emergency contact information. 3. Complete tax-related forms: Fill out forms related to federal, state, and local taxes. This could include the W-4 form for income tax withholding, state withholding forms, and any other documents mandated by your employer or local tax authorities. 4. Verify employment eligibility: Complete the I-9 Employment Eligibility Verification form, providing proof of your identity and eligibility to work in the country. This form usually requires presenting original identification documents, such as a passport or driver's license, and a Social Security card or birth certificate. 5. Enroll in benefits: If applicable, fill out forms related to employee benefits such as health insurance, retirement plans, life insurance, and any other offerings provided by your employer. This may involve selecting coverage options, beneficiaries, and contribution amounts. 6. Sign agreements and acknowledgments: Review and sign forms related to company policies, confidentiality agreements, non-disclosure agreements, and any other legally binding documents. 7. Provide banking information: If your employer offers direct deposit for salary payments, include your bank account details on the provided forms. This ensures your salary will be deposited directly into your desired account. 8. Seek clarification: If you have any questions while filling out the forms, don't hesitate to ask your HR representative or supervisor for assistance. 9. Double-check completeness: Before submitting the forms, review each one to ensure all necessary fields are completed accurately. Double-check for any missed signatures or attachments. 10. Submit the forms: Return the completed forms to your HR department or the designated personnel responsible for collecting new hire paperwork. Remember, the specific forms and requirements may vary depending on your employer and location. It's always helpful to seek guidance from your employer's HR department throughout this process.

What is the purpose of new employee forms?

The purpose of new employee forms is to collect important information and complete necessary documentation when a new employee joins an organization. These forms serve multiple purposes, including: 1. Collecting personal and contact details: These forms typically include sections where new employees provide their full name, address, phone number, email address, emergency contact information, and other personal details. This information helps the organization maintain accurate records and enables effective communication. 2. Employment eligibility verification: New employees are required to complete forms such as the Form I-9 (in the United States), which helps verify their eligibility to work in the country. These forms require the employee to provide specific identification documents to establish their identity and work authorization. 3. Tax-related information: Forms such as the W-4 (in the United States) allow employees to declare their federal income tax withholding status. This form helps the employer determine the correct amount of taxes to withhold from the employee's paycheck. 4. Company policies and agreements: New employee forms often include sections where the employee acknowledges reading and understanding important company policies, such as the code of conduct or employee handbook. Additionally, forms like confidentiality agreements or non-disclosure agreements may be included to protect sensitive company information. 5. Benefits enrollment: Many organizations provide employee benefits such as health insurance, retirement plans, or vacation policies. New employee forms allow employees to enroll in these benefits or make necessary selections. 6. Payroll and direct deposit information: New employees are often required to provide their bank account details for direct deposit purposes. This ensures that their salary or wages are electronically deposited into their bank account. Overall, new employee forms streamline the onboarding process, establish legal and administrative compliance, and help both the employee and employer complete necessary documentation.

What information must be reported on new employee forms?

The specific information that must be reported on new employee forms can vary depending on the country, state/province, and company policy. However, generally, the following information is commonly required: 1. Personal Information: Full name, address, contact information (phone number, email), date of birth, and social security number or national identification number. 2. Employment Information: Position/title, start date, work schedule (full-time or part-time), and employee ID (if applicable). 3. Tax Information: Tax withholding allowances (such as federal or state tax withholding) and the employee's social security number or taxpayer identification number (TIN). 4. Employment Authorization: The employee's eligibility to work in the country, including legal status and any work permits, visas, or employment authorization documents. 5. Bank Account Information: Details for direct deposit purposes, including bank name, account number, and routing number (if applicable). 6. Emergency Contact: Name, relationship, and contact details of a person to be notified in case of emergencies. 7. Benefits Enrollment: Information regarding health insurance, retirement plans, and other employee benefits available, including the selection or waiver of coverage. 8. Withholding Certifications: Citizenship status, marital status, and information related to specific withholding situations (e.g., dependents, childcare expenses). 9. Disclosures: Employees may need to disclose certain information, such as criminal convictions, conflicts of interest, or previous employment history. 10. Consent and Signature: The employee's signature to acknowledge that the information provided is accurate and that they give permission for the company to process their data. It is important to note that specific requirements can vary, and legal advice or HR resources should be consulted to ensure compliance with local labor laws and data protection regulations.

Can I create an electronic signature for the new hire employee information form pdf in Chrome?

Yes. By adding the solution to your Chrome browser, you can use pdfFiller to eSign documents and enjoy all of the features of the PDF editor in one place. Use the extension to create a legally-binding eSignature by drawing it, typing it, or uploading a picture of your handwritten signature. Whatever you choose, you will be able to eSign your new employee forms in seconds.

How do I fill out the new employee forms pdf form on my smartphone?

You can easily create and fill out legal forms with the help of the pdfFiller mobile app. Complete and sign new hire information sheet and other documents on your mobile device using the application. Visit pdfFiller's webpage to learn more about the functionalities of the PDF editor.

Can I edit employee information form on an Android device?

You can edit, sign, and distribute new employee form pdf on your mobile device from anywhere using the pdfFiller mobile app for Android; all you need is an internet connection. Download the app and begin streamlining your document workflow from anywhere.